I made this Claymation Animation for the Guldies Summer Animation Contest in August 2021. Guldies is an amazing Stop Motion Animator from Sweden. He is very popular on Youtube and Instagram. Every few months he hosts a competition for his Patreons to show off some of their skills.
The theme was Summer, and the Animation needed to be max. 10 seconds long.
The prize is an awesome Kinetic Armatures Stop Motion Rig made by the famous Edu Puertas. Edu Puertas is also a well known in the Stop Motion Animation business. He does a lot of tutorial videos and runs a business making good quality Rigs for Stop Motion.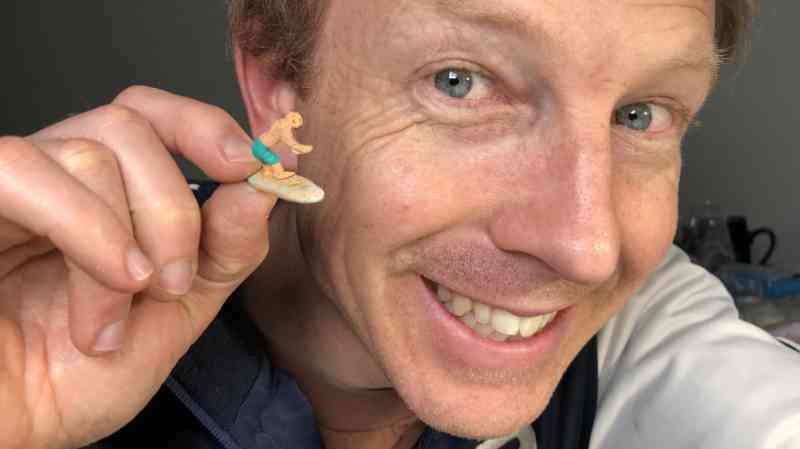 The Claymation Animation design
I tried to think outside of the box. At first I was going to make a claymation wave that turns into a monster and eats the surfer, but I thought that wasn't challenging or unique enough. So I thought: why don't I work inside a super small inflexible space, with a super super small surfer dude! Oh, it was challenging alright 🙂
I needed to get the angle exactly right, so that it looked like the water are circling in the glass and filling it up. This Animation took 3 days to animate the wave and a 4th day for the intro, sound effects and editing. I really need to thank my friend Tweezers for helping with this job! He's really good at working with super super small things.
The sound design was really easy, and it helped convince the viewer that they were watching water pour from a bottle into a glass. I recorded all the sound effects myself.
The Contest Result
The contest is currently running. Guldies will choose his top 5 Animations based on creativity, technique and flow. Then it will be time for the Patreons to vote for their favourite Video. I'm pretty sure I will get into TOP 5, but there are some other amazing entries, so it will be tough competition.
I hope you think a little surfer every time you pour a glass of water from now on. If you enjoyed this video, check out my Desk Crocodile Animation here.
Here is some behind the scenes footage to see how I made this animation.
Unfortunately I did not win the contest. I came in second place, but it was still lots of fun.